Links
---
If you want your link on my page, go ahead and email me and let me know about it, and I'll be glad to do it. (By the way, due to the unfortunate lack of Cannonball pages, as well as the astoundingly small number of Iceman pages, most of these are just general X-Team links.)
---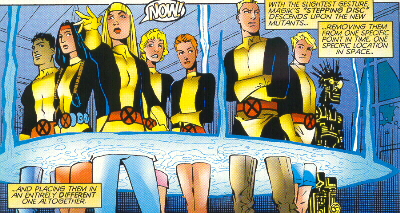 Lori's X-Men Page
This is a great X-Men page with lotsa fanfic (a whole archive, in fact!) and some great fanart as well.

CFAN: The Comic Fan-Fiction Author's Network
Wow! There's so much fanfic here, I don't know quite where to begin!

Two Mutants Are Better Than One
A great page with a lot of links to other X-Men pages too.

The Legacy Virus Info Page
I had no idea the Legacy Virus was so complicated! Everything you ever wanted to know about the microscopic mutant-killer.

The Archangel Homepage
Well, the name says it all, I guess. Great page devoted to our favorite high-flying millionaire.

Psylocke: Britain's Finest
Again, it's all in the name. An extensive page with a history to boot! What more could you ask for?

Sinister's Lair of X-Stuff
Now here's a place with about as much X-stuff as you could ever ask for! Definitely a place you want to go!

Gen X Fanfiction Archive
This is a great - and extremely extensive! - Generation X fanfiction archive that can (and has) keep (kept) me busy for hours!

The Shifting Sands Fan Fiction Archive
A great archive of lots of X-stories with anyone you'd ever want to see in 'em. It's really big, too!

Generation X
This is a really nice page with just about everything you'd ever want concerning the youngest X-Team of unpredictable heroes!

The Uncanny Iceman Homepage
Hey! Look! Bobby's got a page! Whoopee! Check it out - pics, sounds, and links.

Codename: Psylocke
Everything you ever wanted to know about Elisabeth Braddock, and then some!
The Chamber Page
Wow! Jono's so cool, and so's this page devoted totally to him.


---
Back to the Neglected Mutants Homepage
---
Back to the Main Page
---