Student Registration:
The Xavier Institute of Higher Learning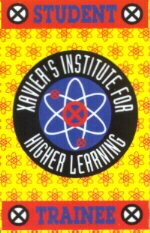 ---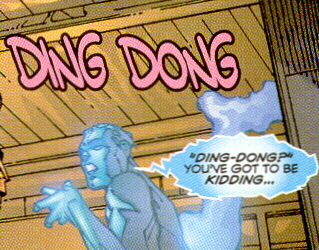 Welcome to the Xavier Institue for Higher Learning. 1407 Greymalkin Lane, Salem Center, NY 10274. The headquarters of the Uncanny X-Men! Come on in, make yourself comfortable, and get to know your 'classmates.'



Note: Registration will be from 10:00 AM - 2:00 PM in the main foyer. If you have any questions, call 555-2413 and ask for Scott Summers or Ororo Munroe.
---
Okay, enough with the formal stuff. These are the X-Team bios, and I did anyone I know enough about to make a decent bio. These are by no means complete, and they're especially not objective! They're the X-Men (etc.) as I see them.
---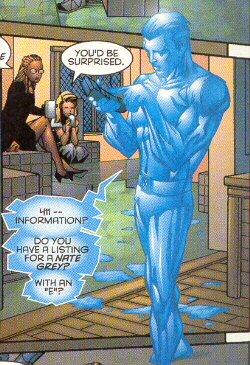 Cannonball
Iceman
Dr. Reyes
Psylocke
Archangel
Cyclops
Phoenix
Storm
Wolverine
Beast
Marrow
Maggott
Gambit
Rogue*
Bishop*
Joseph*
*Not up yet! Sorry!



---
Cannonball

"Howdy, Ah'm Sam."
Sam Guthrie (aka Hayseed) is from Kentucky, and has the (really cool) mutant ability to generate a thermo-chemical blast shield, allowing him to fly. He is also invincible while protected by his blast shield, which he can apparently extend outward (while controlling its intensity) to inflict damage to opponents. His abilities manifested themselves during a mining accident back in Kentucky, and afterward he joined the New Mutants as Cannonball. He later moved on to X-Force (during which time his costume made him look 'uncannily' like the Rocketeer) before recently being recruited to the X-Men, fulfilling his lifelong dream. He has since moved back to X-Force, although tensions do exist due to the fact that Sunspot stole his girlfriend!(Meltdown - personally, I never really liked her anyway.) His younger sister, Paige, attends the Xavier Institute for Gifted Youngsters and fights on Generation X as Husk (I'll get to her later). Oh, by the way, he's an External High Lord-type person, basically meaning he's immortal.
---
Iceman


"I didn't do it!"
Where to begin? Bobby Drake is a very interesting individual: one of the original X-Men (and still the cutest, according to him), he was jailed (for some reason or other) when his powers first manifested and bailed out by Cyclops, later agreeing to join the X-Men. He was their youngest recruit at age 16, and has the ability to change the moisture in the air around him into ice. He used to merely coat his body with ice (which made him look like a snowman), but after some big ordeal with the White Queen - whom he now has a 'thing' for, I think - he learned that his current use of his powers was only the tip of the iceberg (sorry, couldn't resist the pun!). Now he can turn his entire body into solid ice, besides his continued preference of the 'ice slide' method of transportation. He is the also team clown and prankster (as well as the unofficial critic of Hank's food), which basically means that everyone is always mad at him after he pulls one of his many, many practical jokes. My main question is, WHERE THE HECK IS HE??!!! I want him back; as if Gambit wasn't bad enough, where'd they go and stash Bobby? Bring him back!!
---
Dr. Reyes

"Dreams are for people who sleep!"
Dr. Cecelia Reyes is a doctor, first and foremost. After she held her dying father in her arms on the sidewalk when she was 6, she knew she wanted to be a doctor, and has devoted her entire life to that goal. When Operation: Zero Tolerance sentinels invaded her emergency room and uncovered the truth, her life was shattered. Her mutant ability to erect a psioplasmic forcefield, even though it's totally defensive - so far - was uncovered, and Iceman came to rescue her and offer her a place (that had apparently already been offered her 3 years ago) in the X-Men, which she really didn't want but accepted on a trial basis. Strangely, she can feel pain through her field, which also erects itself wherever she's being hit - I think it looks pretty cool, actually. She has since pretty much quit the team and moved out; she now runs her own clinic near the X-mansion.
---
Psylocke

"I'm a big girl, I can take care of myself."
Elisabeth Braddock is one very confusing person! Her personal history is all tangled up with Shard, and apparently the body she currently occupies is not her actual true form. As far as I know, she used to be a "blonde European chick" whose brain was transferred into her current ninja body by (I think) Shard for some reason or another. Betsy's pretty cool; probably my favorite X-Woman, which is kind of odd considering I know next to nothing about her. She is a telepath who has the ability to create psychic knives that can stun/hurt/kill opponents. One other cool thing is that her telepathy manifests itself in a "butterfly," which is basically just a really cool-looking pink butterfly shape surrounding her head. She was living with Warren Worthington III (aka (Arch)Angel) in his Soho Penthouse and had been his steady girlfriend for quite some time as of the Psi-War, but now I don't know what's up with her. During the Psi-War, she lost her telepathic powers in order to trap the Shadow King, and also inadvertantly caused a rupture in the Psi-Plane tha affected anyone connected to in in any way, the reprocussions of which are still being felt. After losing her power, she left the team, and I don't know what her plans are for the future.
---
Archangel

"Beeeetsyyyy!!"
Warren Worthington III is a very rich boy who was born into wealth, power... all the good stuff. That is, until wings grew from his back! Kinda hard to hide those, don't you think? He used to keep them strapped down... He once fought crime as the Avenging Angel before joining the original X-Men as Angel. Anyway, some time after that he was recruited by Apocalypse to be one of the four horsemen who would end the world while he was trying to get rid of his wings. That's where he turned blue, and his feathered wings (which had been lost in the Morlock Massacre somewhere along the way - I don't know when that happened though) were replaced by metal ones with deadly flechettes that he could fire at will. He overcame Apocalypse, though, with the help of Rogue and came back to the X-Men as Archangel. Just a little while ago, though, the metal wings that Apocalypse gave him were... molted?... revealing feathered wings underneath, which, suffice to say, made him very happy. (I think he changed his name back to Angel, too.) He's been going steady with Psylocke for quite some time, and they were living together in his penthouse in Soho as of the Psi-War. He went with Iceman and Beast to visit Phoenix and Cyclops in Alaska, and we haven't heard from him since.
---
Cyclops

"Maybe Jean won't notice."
Ah, the "immaculate Mr. Summers who can do no wrong!" And everyone's related to him, too! Cyclops is the leader of the X-Men, as well as the first X-Man ever. He can fire (or "zakt") concussive blasts from his optic nerves, and I think he would normally be able to control them, but he had a concussion as a kid, so he can't. Therefore he is burdened with ruby quartz sunglasses, which he can't take off lest he blast everything in sight (pun intended). And this guy is powerful, too! We're talking supernova power here! Wow. The Summers Clan is incredibly far-reaching, and just about everyone's related to him (even Reed Richards, I think!). His brother Alex is Havok (a bad guy, I think), and his father is Corsair, a Star Jammer who works in outer space on a really cool spaceship. Scott is married to Jean Grey, otherwise known as Phoenix, and has quite a few kids from the future: Cable and Rachel somebody to name a few. He's pretty cool, just very... correct. Clean. By the book. In other words, just crying out to be made fun of! But watch out! Some day you just might receive word that you are the lost Summers brother! :O You never know...
---
Phoenix
"All it takes is a woman's touch."
Jean Grey, the Phoenix! Celestial Power Incarnate! And Scott Summers' significant other, as well. Jean is an extremely powerful telepath - in fact, she's the second most powerful telepath in the world (Xavier's the first)! A long time ago, the "real" Jean Grey sacrificed herself to save the world by being possessed by the Phoenix, some type of guardian of the universe-type thing. Anyway, there are rumors that the "real" Jean Grey is on the far side of the moon or something, and frankly I have no idea. I just know that she died, then she came back to the team and a very confused Scott, who I think at that point had married her clone, Madelyne (spelling, anyone?) Pryor. Well, I'm sure that was confusing, but I guess everything got somehow worked out and everything was pretty okay in the end. Which brings us to today, where Jean is still the real head honcho of the couple, and I think Scott knows it too! Right now as far as I know, they're in Alaska, and I don't know when they're planning on coming back to the team.
---
Storm

"By the goddess!"
Here's Storm, everyone's favorite weather goddess and co-leader of the X-Men (leader, now that Cyclops is on vacation). Storm was found by Xavier (I think) in Cairo when she was a thief, and he brought her back to his school to train and (obviously) have a happier and more pleasant life. She is pretty close to Gambit, I think, and was at one time "working" in Africa as a local weather goddess. Go figure, I guess. She's pretty cool, though, and a very good leader in Cyclops' absence. She's very rational and calm in a jam, and basically a good person to have working on your side. Her one weakness, though, is that she's extremely claustrophobic, and that's usually how the bad guys end up taking her out of the picture. Also known as Windrider to many, she used to lead the Morlocks before relinquishing her post to Callisto, and she supposedly killed Marrow by ripping her heart out (although Marrow didn't stay dead, or how else could she be on the team now?!). This obviously causes some tension between the two (just a bit), but hey - that just makes it all the more interesting! She used to have a thing for Forge, but as far as I know that's over. Or so she says.
---
Wolverine
"I am the best there is at what I do."
Okay, now this is one confusing guy! Known only by his last name (I think it's his last name), Logan is a Canadian mutant with a healing factor, which I believe has slowed down his aging process quite a bit. In other words, he's pretty old! (I read somewhere he fought in the Civil War, but you're also not supposed to believe everything you read. So really, I have no idea, but I do know he's been around.) He also has razor-sharp senses and is an excellent hunter and tracker. He's very secretive and no one knows all that much about him. He used to have pretty deep feelings for Jean, but since she married Scott I think those have somewhat dissipated. He used to be a part of the Canadian mutant team Alpha Flight, and while he was affiliated with them, somewhere along the way scientists decided to bond adamantium metal - the hardest/most indestructible metal known on Earth (at least, Marvel Earth) - to his skeleton. Pleasant, huh? Anyway, he survived where countless others had died only because of his healing factor, although he ended up with three "claws" which he can extend and retract at will from the back of each hand. Recently something happened to him, and he was in some kind of feral state for a while (I totally missed whatever that was, so I'm clueless as to the actual story; I just know it happened, and then he got better). He also lost the adamantium bonded to his skeleton in an unpleasant encounter with Magneto (man that had to have hurt!), and his claws are now made of bone. He is very close to Jubilee of Generation X, and is like the father she never had.
---
Beast

"Oh my stars and garters!"
Henry McCoy is an extremely intelligent scientist and doctor, and also a very blue and fuzzy one! He wasn't always big, blue, and fuzzy - in fact, it's all his fault. During his early career, Hank developed a certain serum that had something to do with mutation (forgive me, I know this is all too technical for you!) and drank it, thereby somehow mutating himself into a big fury blue guy. I don't think he really minds all that much anymore, though. His actual mutant powers are, I believe, superhuman strength and agility, and I know he likes to hang upside-down a lot. The super-scientist has been working for some time on a cure for the Legacy virus, and I hope he finds one soon! He is also an allegedly bad cook, and addicted to twinkies. I think Cecelia may have had something for him, but who am I to say anything? Hank does/did have a girlfriend, Trish Tilby, but I have no idea where she is or what happened between them at all. He was also last seen in Alaska hanging around with Archangel, Iceman, Phoenix, and Cyclops.
---
Marrow

"We are Morlocks...we survive."
Sarah - Marrow - is another one of those really confusing characters. She is a Morlock who was taken in by Callisto after being saved during the Morlock Massacre by Gambit. She has the ability to use her detachable bones as weapons, and they grow back as well. She hates all "upworlders," humans and mutants alike, and is kind of a loose cannon for the X-Men now. After trying to kill a bunch of innocent people in retaliation for the Massacre, she fought Storm and, consequently, had her heart ripped out (ow!). Somehow she's back, though, and helped Iceman and Dr. Reyes through Operation: Zero Tolerance. She came back with them to the mansion and was "taught a lesson" by Wolverine (he almost killed her! She made him go nuts!) before leaving and returning to the Morlock tunnels underneath New York. I used to hate her, but now she's starting to look more interesting and a little less zealous... I think she kind of likes Colossus, and something may be developing between the two. However, I am not one to pay attention to such things, so figure that one out for yourselves.
---
Maggott

"Secrets are my stock and trade."
Um... does anyone really know all that much about this guy? I mean, I think he's really cool, but obviously certain X-People don't. As near as I can tell, he's a regular Al Calavicci with some kind of cool Australian accent and these two worm-thingies that he can't get rid of. Frankly, even though I read the issue, I'm still not totally sure what's up with Eany and Meany (the two worm-thingies) or how he's tied to them exactly, but I think it's some kind of parasitic/symbiotic relationship. He originally came to the X-Men while hunting down Joseph (whom he said wasn't Magneto) but joined the X-Men temporarily in search of better control over his powers and in order to "free himself." I personally think he's really cool, and he just showed up in Generation X, and I don't know if he's staying or not (I hope so).
---
Gambit
"Every man has a price to charge...an' a price ta pay."
Gambit has a long, dark past as a New Orleans thief (or t'ief, depending on your accent) entangled in a huge rivalry between the two guilds: the Thieves and the Assassins. I think at one point he was married to Belle, his love back in New Orleans and also an Assassin. I guess that just didn't work out, though, and he left to join the X-Men. He's also been their wild card (sorry about the pun!) and has been a whole lot less than honest and open about his past. He is also somehow tangled up with Sinister and once worked for the guy - heck, somehow Gambit played a big role in the Morlock Massacre (he ended up saving Marrow as well), and now everyone's ticked at him! That's why they left him in Antarctica, I guess. At any rate, he's in love with Rogue and was probably jealous of Joseph due to this. He has since come back (finally!), and now has some really big confusing secret that I can't figure out (well, I guess I'm not supposed to) that I just know will come back to haunt him very soon.